QGIS
Previously known as Quantum GIS
Open source Geographic Information System (GIS)
Integration of PostGIS and GRASS
Runs on Linux, Unix, MacOS, Windows, Android
Supports many vector, raster, and database formats and functionalities
Customizable via plugins (C++, Python)
Data modelling
is fundamental for efficient
storage of data
data maintenance
work with data
Database normalisation
Normalisation is the formalisation of the design process of making a database compliant with the concept of a Normal Form.
It addresses various ways in which we may look for repeating data values in a table.
There are several levels of the Normal Form, and each level requires that the previous level be satisfied.
The normalization process is based on collecting an exhaustive list of all data items to be maintained in the database and starting the design with a few "superset" tables.
Normalisation- First Normal Form
For best results, start with a reasonable breakdown of all attributes in different tables
Reduce entities to first normal form (1NF) by removing repeating or multivalued attributes to another, child entity.
Basically, make sure that the data is represented as a (proper) table.
While key to the relational principles, this is somewhat a motherhood statement.
Normalisation- First Normal Form
However, there are six properties of a relational table (the formal name for "table" is "relation"):
Entries in columns are single-valued.
Entries in columns are of the same kind.
Each row is unique.
Sequence of columns is insignificant.
Sequence of rows is insignificant.
Each column has a unique name.

The most common sins against the first normal form (1NF) are the lack of a Primary Key and the use of "repeating columns."
Normalisation- Second Normal Form
Reduce first normal form entities to second normal form (2NF) by removing attributes that are not dependent on the whole primary key.
The purpose here is to make sure that each column is defined in the correct table. Using the more formal names may make this a little clearer. Make sure each attribute is kept with the entity that it describes.
Normalisation- Third Normal Form
Reduce second normal form entities to third normal form (3NF) by removing attributes that depend on other, non-key attributes (other than alternative keys).
This basically means that we shouldn't store any data that can either be derived from other columns or belong in another table


* for more background and guidance code guru
Start QGIS
Open QGIS Desktop

Add new database:

Click on the PostGIS logo (Elephant)

Select 'New'
Add New Database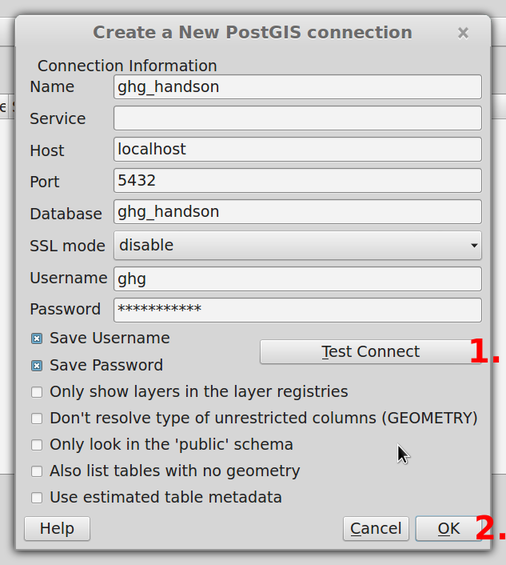 Connect to Database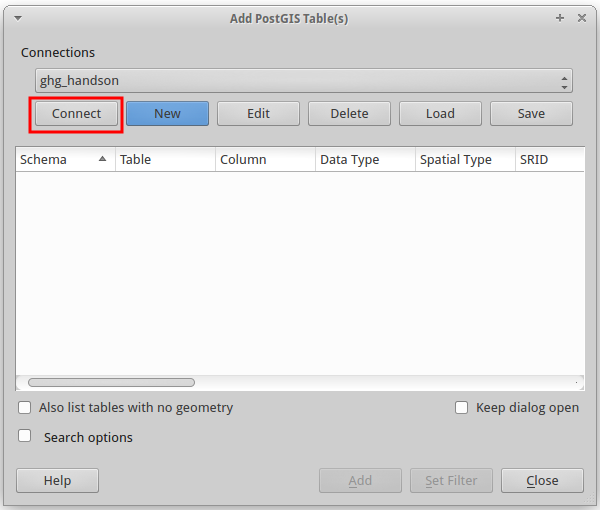 Query Buildings from DB
Open 'Database' > 'DB Manager' > 'DB Manager'
Select database 'ghg_handson' and open 'SQL window'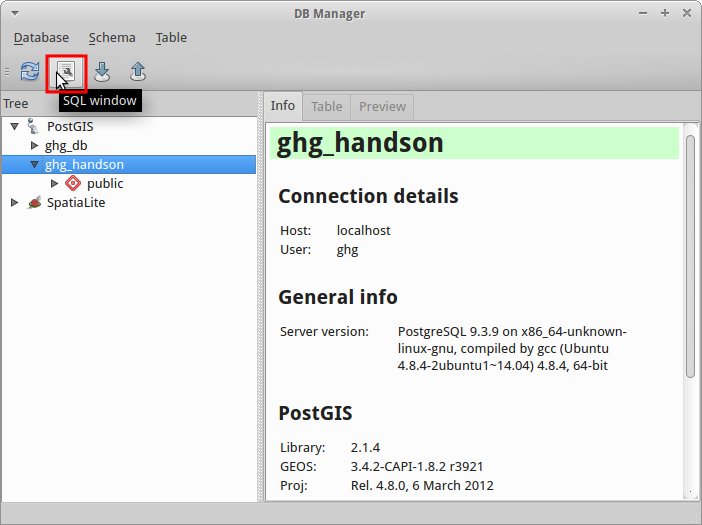 Query Buildings from DB (cont.)
Execute following query:
WITH


groundSurfaces 

AS

 (
    

SELECT

 thematic_surface.* 
    

FROM

 citydb.thematic_surface 

INNER

 

JOIN

 citydb.objectclass 
    

ON

 objectclass.id = thematic_surface.objectclass_id 
    

WHERE

 classname=

'BuildingGroundSurface'


),
surfaceGeometries 

AS

 (
    

SELECT

 *
    

FROM

 citydb.surface_geometry 

INNER

 

JOIN

 groundSurfaces
    

ON

 groundSurfaces.lod2_multi_surface_id = surface_geometry.parent_id
    

WHERE

 geometry 

IS

 

NOT

 

NULL


),
heights 

AS

 (
    

SELECT

 measured_height, surfaceGeometries.*
    

FROM

 citydb.building 

INNER

 

JOIN

 surfaceGeometries
    

ON

 building.id = surfaceGeometries.building_id
)


SELECT

 

row_number

() 

OVER

() 

As

 

id

, building_id, 
measured_height, ST_Force2d(geometry) 

AS

 footprint 

FROM

 heights;
Query stored in file:
/home/ghg/Desktop/ghg_flux_ws/city_gml/hands-on/select_footprint_height.sql
Query Buildings from DB (cont.)
Select 'Load as new layer'
'Column with unique integer values' : 'id'
'Geometry column' : 'footprint'
Query Buildings from DB (cont.)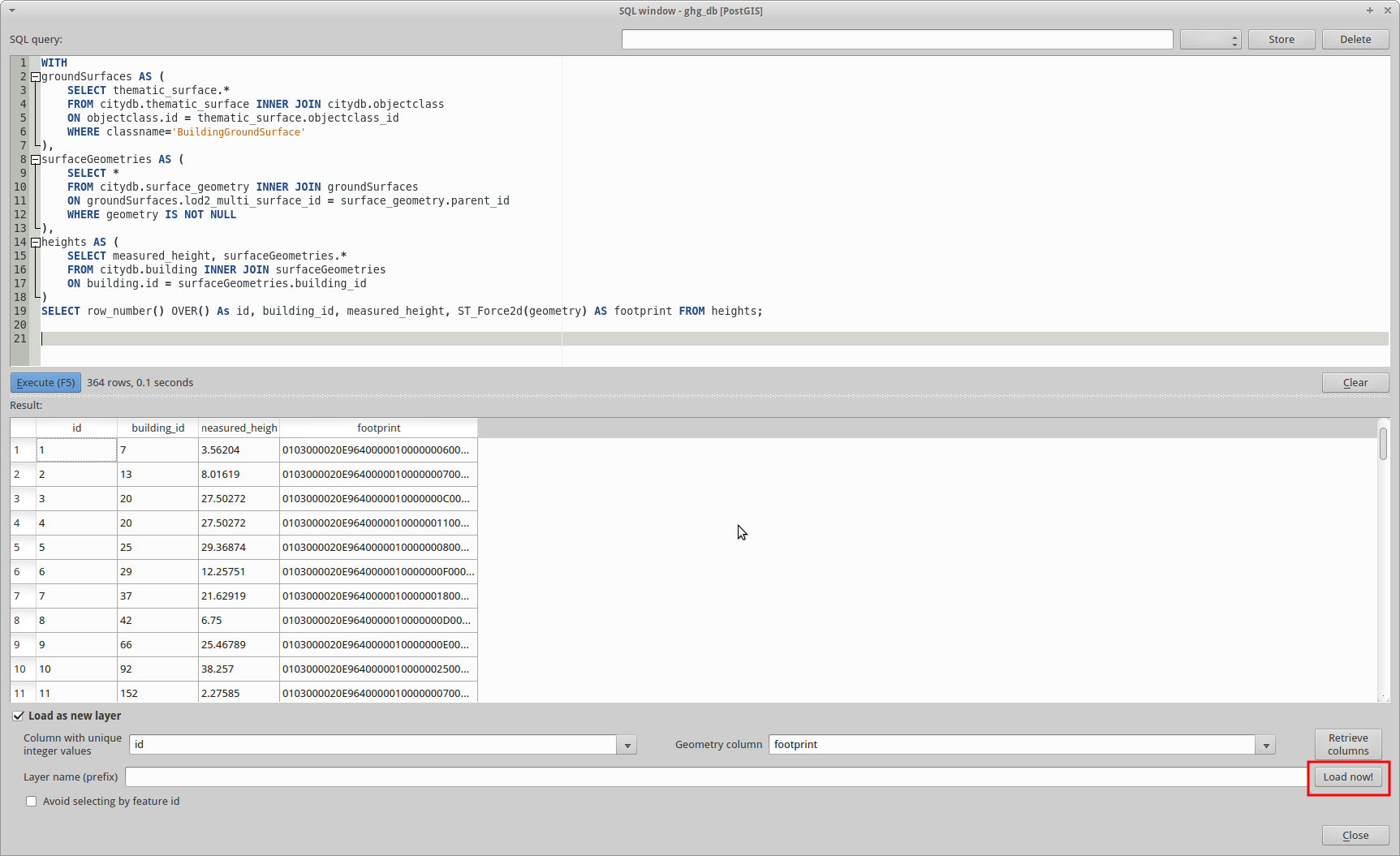 Buildings with Attributes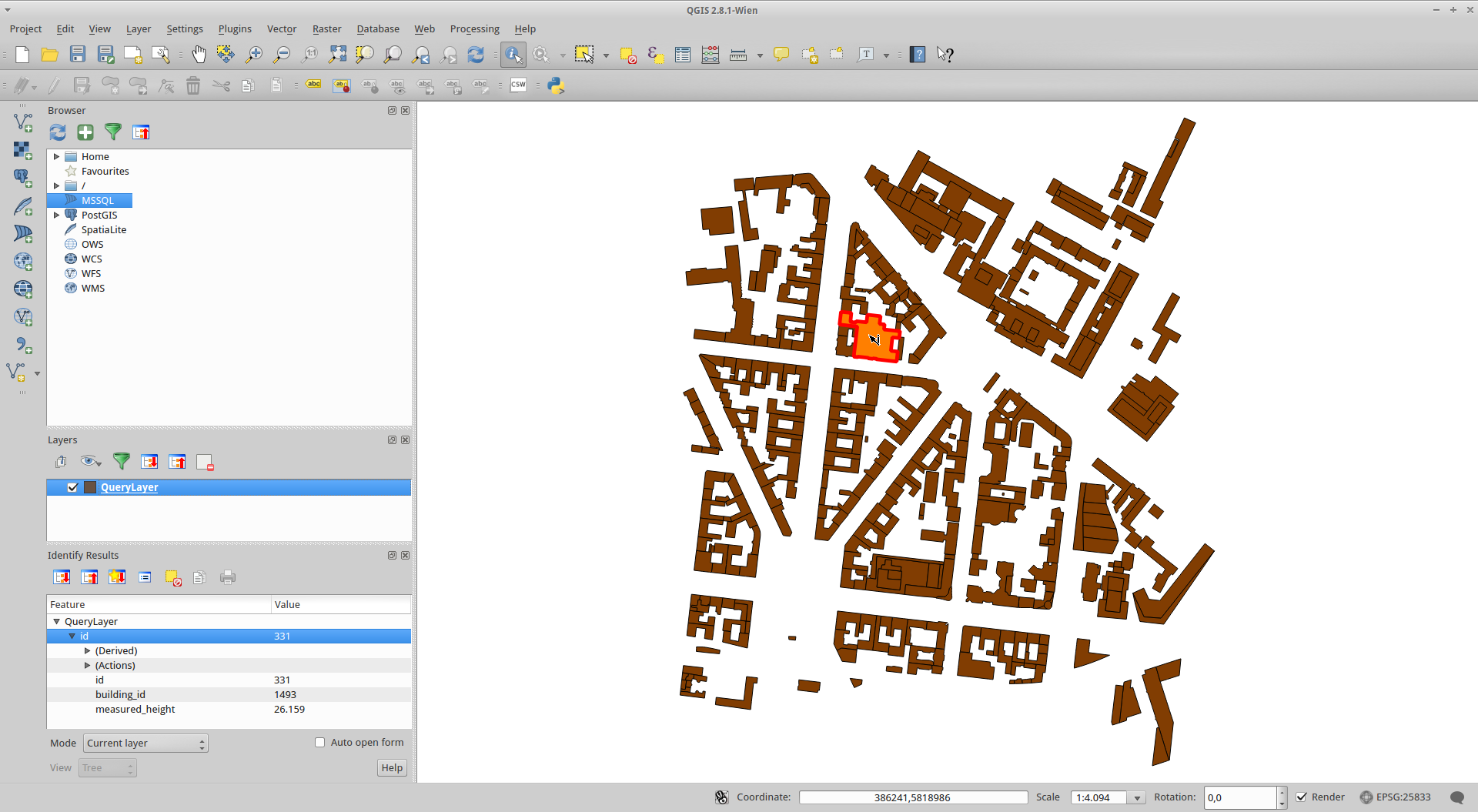 Buildings with Attributes
Example building:

Export to Shape I
Do a right-click onto the layer:
Export to Shape II